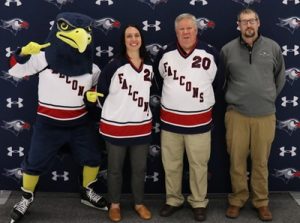 (Scranton, PA) – Lackawanna College is proud to announce the newest addition to our collegiate sports offerings. Lackawanna will be competing in Men's Ice Hockey at Revolution Ice Centre in Pittston PA. The Ice Falcons are scheduled to hit the rink for the 2020-21 season.
 "We are very excited to start the very first men's ice hockey program at Lackawanna College. We are thankful and thrilled about our partnership with Revolution Ice Centre and are looking forward to kicking off our season in the Fall of 2020. Go Ice Falcons!!" – Athletic Director Joya Whittington
Lackawanna has inked a partnership with Revolution Ice Centre, located at 12 Old Boston Road in Pittston, PA to serve as its home ice. Revolution Ice Centre is a state of the art facility, which includes off-ice training, conditioning, and fitness rooms. They are also constructing the area's only Rapid Shot Machine. This machine is a live computerized shooting system that measures player's accuracy, shot speeds, and reaction times. Rapid Shot can assist a player with a few hundred pucks in an hour.
The Falcons are applying play in the American Collegiate Hockey Association (ACHA) and intends to compete in the Delaware Valley Collegiate Hockey Conference (DVCHC). Lackawanna will be led by their new Head Coach, Don Tweedy.
"It's as special an honor as I've ever had in my coaching career to be the first ice hockey coach at Lackawanna College. I'm looking forward to starting a great tradition at the school." – Head Coach Don Tweedy